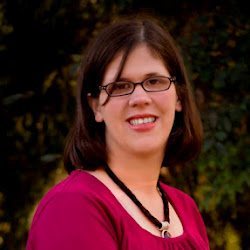 I met Krista Phillips online through ACFW–American Christian Fiction Writers. When I learned of her struggles with her fourth child Annabelle, my heart ached. I loved her transparency in her blog posts. I loved her ability to hold on through the storm. I loved rejoicing with her family's victories. Now Krista and I are agent mates. Her debut novel, "Sandwich With a Side of Romance," releases in September (she'll be back as a guest blogger then too!), and I couldn't be happier. 
Krista writes inspirational romantic comedy. She believes a sprinkle of laughter (and a wee bit of chocolate) makes everything a little better! She blogs regularly about life as a wife, mother, follower of Jesus, and mother of a child with a rare congenital heart defect at www.kristaphillips.com. Her debut novel, "Sandwich, With a Side of Romance," releases in September, 2012.
~*~
You hear the stories about those sick babies, see the prayer requests,  and your heart aches. Yet a tiny part of you is relieved. It's them. It's not you.
Until… it is you.
This was us when we had an ultrasound at 26 weeks with our 4th child. Our hearts crashed to the floor as the doctor drew us this ultra simple version of our daughter's very sick heart.
They give us 70% odds of her survival to age 5.
Friends would say, "70%! That's good, right?"
But all I could think of was that 30% chance. It haunted me for the next 12 weeks.
Nothing could have prepared me for the reality that we'd be faced with. 5 heart surgeries, including a heart transplant, several cardiac arrests, a total of 355 days in the hospital, 308 of them from birth until 10 months of age when Annabelle went home for the first time.
People ask me all the time, "How did you do it?" Or remark, "I could never do that. I'm just not that strong."
Here's the thing.
As a mother, there's no other option. Sure, I get tired. I've struggled at times with depression, and have had my fair share of frank discussions with God, giving Him my blunt opinion on the matter.
God gives me strength for each day. No more, no less. Even now that we're home and working on pushing through the hurdles that 355 days in the hospital creates, most times I'm still living on my own fumes and God's  limitless strength-supply.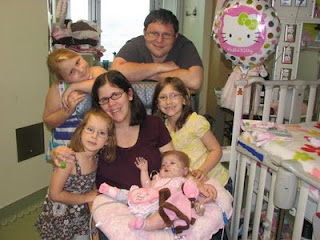 And oh-my-goodness. The rewards for "keeping on" are HUGE. Every snuggle, every smile, every milestone… with all children they are wonderful, but when you've fought so hard for those milestones and hugs, they are even that much sweeter.
Annabelle still has a ways to go. She's 2 now and just learned to walk. She doesn't talk yet, although her favorite babble is, "Mamamamama!" This Momma doesn't mind that a bit! She doesn't eat, is fed by a tube in her belly because she wasn't stable enough to try food until she was a year old. B y then, she wasn't very pleased at the thought.  So eating is a big hurdle.
But I have faith that she's going to leap over that one any day.
And I have faith that through it all, God is cheering her on with us. I can totally see Him up in heaven doing this massive fist pump in the air, shouting, "Go Annabelle!"
Your Turn: Life is full of trials. Share a time when God's strength was the only way you could get through each day.