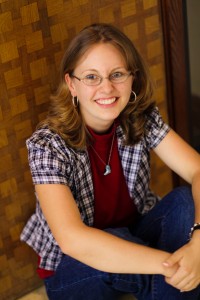 Casey Herringshaw is one of the sweetest, most encouraging people I know. We met through My Book Therapy, then in person at ACFW–American Christian Fiction Writers. She has a heart for Jesus and celebrating others.
She is a homeschool graduate and has been writing since high school. She lives in rural Eastern Oregon in a town more densely populated with cows than people. Taking the words and stories God has placed on her heart and putting them on paper is one of her highest passions in life. Casey is a member of ACFW. You can connect with her through her personal blog, Writing for Christ and her writing related group blog, The Writer's Alley
~*~
I'm not a patient person.
Shoot, I just admitted one of my biggest flaws on the World Wide Web. But, I'm not. Never have been. My mom tells a story of me as a teeny bopper, cranking up the volume on the stereo between the silence before the next song.
Nope, patience is not my favorite skill and one I don't employ often enough. But ask me about my publishing journey and I'll gladly tell you I'll wait as long as I have too. I'll closet myself in the back corner, throw away the key, and edit until Christ comes back…instead of submitting, for fear I'll send out an inferior product.
Ask me about any personal romance or love life and ooo baby, the patience flies out the window.  Suddenly I'm not so eager to refine who I am in Christ, not anxious to truly become the wife and child of the King I need to be, instead I want to jump in with two feet now…why have to spend all that time waiting?
As I sat here thinking about writing this post, I started comparing my two "goals" as you would have it. I would love to be published, but I'm willing to work and refine my craft until it becomes as good as I can make it—I'm willing to take all the time I need. But when it comes to romance and marriage, I'm not as willing to put in that patient work and effort. I mean seriously, at twenty-one, who doesn't want to be snatched up and given a special new name? Suddenly I'm not so eager to spend as much time as I need.
Welllll…problem is God is saying wait. It's not the right time. And if I'm not okay with that, I'm going to have a miserable existence. My question so often to myself, is why can't I just accept His timing like I can with my writing?
If I'm willing to make my writing the very best it can, I should be just as willing to put in the time and effort to perfect my life in Christ.  Let's face it, we are all works in progress, crafted by the Master's hand, but we can only crafted as far as we allow ourselves to be sculpted to His will.
Maybe it won't be this year. Maybe it won't be next year, but like with my publishing future, I have to keep editing, keep revising and keep praying that God will mold me into the image of His love and perfect match for my future husband.
Will you join me? Revising, waiting, praying…patiently.
Your Turn: Is waiting a struggle for you? How do you get through it? What area of waiting are you in right now? How is God helping you?