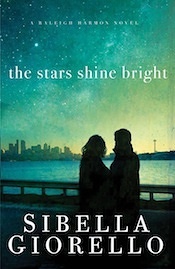 Sibella Giorello's novels are automatic reads for me. Set in exciting locales, her novels teach me something as I devour the plot. I linger over her words, marveling at the artistry in her wordsmithing. Her novels are written in first person point of view, but they read like third person. She became one of my favorite authors from the first book Raleigh Harmon novel I read. I'm quick to spread the word about her books to friends who love romantic suspense and Christian fiction. Her Raleigh Harmon series is definitely a keeper!
After the FBI suspends her for bending its rules, Special Agent Raleigh Harmon is looking for a chance to redeem her career and re-start her life.
Sent undercover to a thoroughbred horse track, Raleigh takes on a double life to find out who's fixing the races. But when horses start dying and then her own life is threatened, Raleigh realizes something bigger—and more sinister—is ruining Emerald Meadows.
She's never felt more alone.
Her one contact with the FBI is Special Agent Jack Stephanson, a guy who seems to jump from antagonistic to genuine friend depending on the time of day. And she can't turn to her family for support. They're off-limits while she's undercover, and her mother isn't speaking to her anyway, having been confined to a mental hospital following a psychotic breakdown. Adding insult to her isolation, Raleigh's fiancé wants them to begin their life together—now—precisely when she's been ordered not to be herself.
With just days left before the season ends, Raleigh races to stop the killing and find out who's behind the track's trouble, all the while trying to determine if Jack is friend or foe, and whether marrying her fiancé will make things better—or worse.
Raleigh is walking through the darkest night she's faced, searching for a place where the stars shine bright. 
Purchase your copy of The Stars Shine Bright 
here
.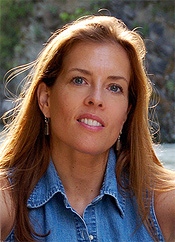 Sibella Giorello grew up in the mountains of Alaska admiring the beauty and nature that surrounded her. She majored in geology at Mount Holyoke College in Massachusetts hoping to learn more about the landscape she loved back home. From there Sibella followed a winding path, much like the motorcycle ride she took across the country, which led to her true love, journalism. 
She found herself in Seattle writing for rock-n-roll magazine and earned a journalism degree from the University of Washington before heading south to the land of great stories.
In Virginia, Sibella became a features writer for the Richmond Times-Dispatch. It was there she also met her husband and would hear Jesus whispering her name at a tent revival.
Sibella started writing about Raleigh Harmon as a way to keep her love of story-telling alive while staying at home with her young sons. As a journalist and author, her stories have won state and national awards, including two nominations for the Pulitzer Prize. The Stones Cry Out, the first Raleigh Harmon novel, won a Christy award for debut novel in 2008. Sibella now lives in Washington state with her husband and sons.
Novelist Sibella Giorello is celebrating the release of the latest book in her praiseworthy Raleigh Harmon series by giving away a Kindle Fire! 
Find out what the reviewers are saying here!
One grand prize winner will receive:
A brand new Kindle Fire
The entire 5-book Raleigh Harmon series.
Hurry, the giveaway ends on 8/25/12. The winner will be announced on 8/27/12 on Sibella's blog!
Just click one of the icons below to enter. Tell your friends about Sibella's giveaway on FACEBOOK or TWITTER and increase your chances of winning.