I haven't had the privilege to meet Amy Reece yet, but I'm very close friends with her fantastic sister Melissa Tagg, whom many of you know and love. Melissa and I share a common bond–we are aunties to the most amazing kids. My niece Lilly is my sunshine, the light of my heart (or blueberry if you read my acknowledgement in Lakeside Family). Melissa's nephew Ollie is a beautiful child with a constant smile. One look at him and you will fall in love. I asked Amy to be a guest on my blog to share her joy in parenting a child with special abilities. Yes, children with special abilities face medical and physical challenges, but they possess such an amazing joy that is so contagious.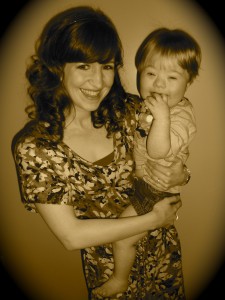 My son was laying on his back with his hands in the air, and was opening and closing his hands as if he was trying to sign "book" to me.  He had a strong look of concentration on his face, so I just watched him for several moments.   When he stopped, I asked if he would like to read a book.  He didn't quite seem to make the connection, so we proceeded to another activity. 
A short time later, I asked him again if he would like to read a book.  He looked down at his hands and very clearly and deliberately signed book to me three times in a row!
My heart melted and tears came to my eyes as I realized I had just witnessed my son discovering a new word of communication!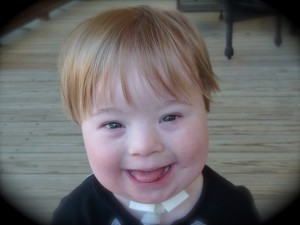 My son, Oliver "Ollie" Lelan Reece was born two years ago with Down Syndrome and two major internal and external heart defects.  In Ollie's young life he has endured two hospital stays totaling close to eight months, and survived four open-heart surgeries.  In addition, Ollie battles vocal cord paralysis, congenital heart disease, hypothyroidism, low muscle tone, tracheal malacia, reflux issues, developmental delays, and requires the aid of a ventilator, trach, and G tube. 
Because of all these factors, Ollie sees a multitude of doctors and participates in a substantial amount of therapy.  But despite all these difficulties, Ollie lives life with so much vitality!
While my son faces so many challenges, he is still like any other child full of smiles, energy, and the desire to explore his world and conquer new skills. 
It seems often when people find out that our son has a disability and medical needs it can make them uncomfortable.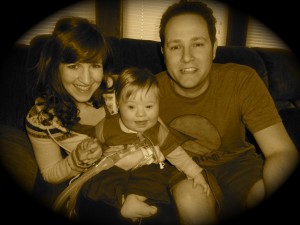 My husband and I have always felt that the term special needs or disability should instead be referred to as "special abilities" because we see Ollie as Ollie, a child full of amazing talents and a phenomenal personality and attitude, not as a child defined only by his Down Syndrome.  
My son is truly one of the most amazing people I know. I feel so privileged and honored to be his parent.  While I am able to teach Ollie skills like a new word in sign language, Ollie teaches me to never let challenges or differences hold me back from living life with great passion and joy!! 
Your Turn: Are you a parent or a relative of a child with special abilities? Or maybe you have a friend who parents a child with special abilities? How have these amazing children helped you to view life?