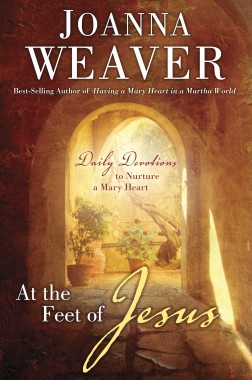 I love devotionals. I love reading snippets of someone else's life woven with Godly truth. I have several devotionals that I use for my daily reading. Some have been gifts, and some I've purchased.
I received Joanna Weaver's At the Feet of Jesus free from the publisher in exchange for a review on my blog. First of all, I love the padded hardcover that gives this devotional sturdiness. Since I received the book a couple of weeks ago, I opened to the date in October and began reading. Each daily devotion begins with Scripture and ends with a suggested reading followed by a question of reflection. Joanna incorporates hard truth with gentle encouragement. Another thing I love about this devotional is it's not dated by year, so it's something that can be used year after. If you're looking for a daily devotional, consider At the Feet of Jesus by Joanna Weaver.
About At the Feet of Jesus: 
You were made for more than serving God; you were made to know Him.
Intimacy with God-to know Him and be known by Him. It is what our hearts desperately need, but somehow life conspires to keep us busy and distracted.
For anyone who struggles when it comes to daily devotions, At the Feet of Jesus extends an irresistible invitation to set aside your duties and find the amazing peace and incredible joy that come from time alone with Him. Drawn from Joanna Weaver's beloved Bethany trilogy, each reading in this 365-day devotional includes a Bible reading passage and reflection question. All-new material and "Going Deeper" sidebars are also woven throughout.
Discover for yourself the riches that come from spending a portion of each day alone with God. At the feet of Jesus-where true life begins!
Includes a unique One-Year Bible Reading Guide.
Link to buy the book: http://ow.ly/erC31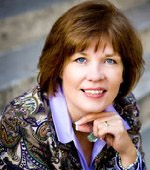 Joanna Weaver is known the world over for her transparent and life-changing books, Having A Mary Heart in a Martha World and Having a Mary Spirit. Joanna has appeared on a wide variety of nationally syndicated radio and television broadcasts. She is also a highly sought after speaker and shares her message at intimate gatherings and several high profile events each year. But Joanna's greatest joy is found in being a wife and mother and her role as a pastor's wife.
Find out more about Joanna at http://www.joannaweaverbooks.com/.
Celebrate the release of At the Feet of Jesus with Joanna Weaver by entering to win an iPad and RSVPing for the "True Life" Webcast Event on 11/8!
One blessed winner will receive:
An iPad
The Year in Bethany Trilogy (Having a Mary Heart in a Martha World, Having a Mary Spirit and Lazarus Awakening
At the Feet of Jesus for YOU and Five of your friends.
Enter today by clicking one of the icons below. But hurry, the giveaway ends on November 7th. Winner will be announced at the "True Life" Live Webcast Event on November 8th. Connect with author Joanna Weaver and her special guest for an evening of encouragement, laughter and a Q&A! There will also be gift certificates and books given away to participants.
So grab your copy of At the Feet of Jesus (or one of Joanna's other books) and join Joanna on evening of November 8th for a chance to connect and make some new friends. (If you haven't read the books – don't let that stop you from coming!)
Don't miss a moment of the fun, RSVP today. Tell your friends via FACEBOOK or TWITTER and increase your chances of winning. Hope to see you on the 8th!
See what others have to say by visiting other blogs on this blog tour: http://litfusegroup.com/author/jweaver