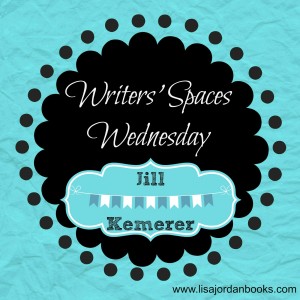 I've always been fascinated by other writers' spaces. Some of my writer friends have beautiful offices. Others frequent their favorite Starbucks, Panera, or local libraries to write. Some write at their kitchen tables or living rooms. Because I love to see where others create, I've started Writers' Spaces Wednesdays.
~*~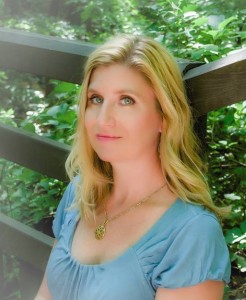 I'm super excited to have friend, agency mate, and fellow Love Inspired author Jill Kemerer sharing her writing space today. 
Jill Kemerer
 writes Christian romance novels with love, humor and faith. Her debut novel, 
Small-Town Bachelor
,
releases April 1, 2015 through Harlequin Love Inspired. Jill loves coffee, M&M's, fluffy animals, magazines and her hilarious family. Visit her website,
jillkemerer.com
, and connect with Jill on
Facebook
,
Twitter
and
Pinterest
!
Jill, so excited to hang out with you today. Tell us about your writing space.
Everyone dreams about a corner office with a view, right? Well, I have it! Almost three years ago, we moved into a lovely four bedroom home. Our kids chose their bedrooms, and I was shocked when no one wanted the corner room. I happily painted it a pretty peach color and filled it with my writing essentials.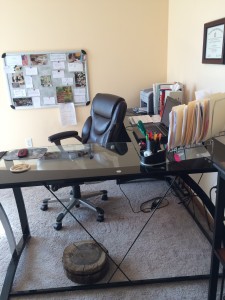 It's such a relaxing shade. What makes it special for you?
It's the one spot in our house that's all mine! I hung my favorite pictures on the walls and organized the shelves and desk the way I wanted them. I love that I can shut the door and feel professional.
I totally get the need to have a space that's all yours. What is one element of your space that makes you smile?
My bulletin board makes me smile. I post inspirational pictures, quotes, Bible passages, writing helps and a baggie of M&M's on that board!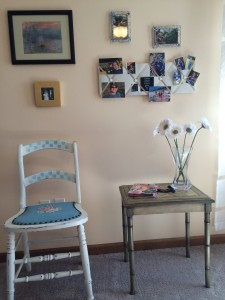 Ok, you had me at M&M's. What are your "must-haves" when you sit down to write?
My laptop, wireless mouse and The Synonym Finder by J. I. Rodale.
Share a typical writing day.
After I send the kids off to school, I spend time reading the Bible and praying. This is when the coffee kicks in. I'm not much of a morning person, so I ease into writing with an hour of administrative work, such as checking emails and social media sites. Around 11am I'm ready to plot, write or revise, and I do this until 5pm with a few breaks in between.
If you could choose the ultimate writing space, where would it be?
I'm pretty happy where I'm at! But a little cottage on Lake Michigan would be amazing.
Tell us a little about your latest release.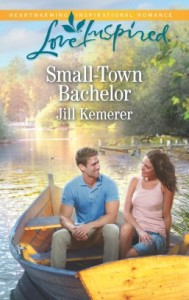 Small-Town Bachelor is my debut novel, published through Harlequin™ Love Inspired. After a tornado destroys her sister's wedding, Claire Sheffield settles injured best man, Reed Hamilton, into the cottage next door. As they work together to rebuild Lake Endwell, Reed must face family issues from his past while Claire is torn between a zoo job with her beloved otters or the hero she's grown to love.
Jill, your cover is gorgeous! Thanks so much for giving us a glimpse into your writing world. I'm eager to read your debut novel!
Readers, be sure to buy Jill's debut novel! Also, what's your favorite type of M&M's? If you're not an M&M's fan, what's your favorite snack food?