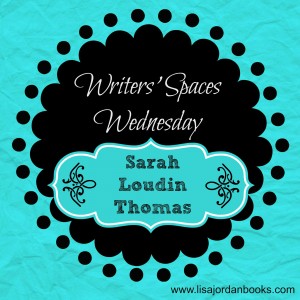 I've always been fascinated by other writers' spaces. Some of my writer friends have beautiful offices. Others frequent their favorite Starbucks, Panera, or local libraries to write. Some write at their kitchen tables or living rooms. Because I love to see where others create, I've started Writers' Spaces Wednesdays.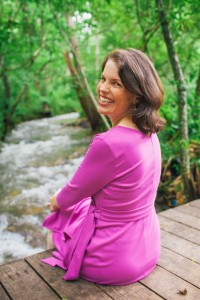 I haven't had the pleasure of meeting Sarah Loudin Thomas in person, but we're agency mates with Books & Such Literary Management. Sarah grew up on a 100-acre farm in French Creek, WV, the seventh generation to live there. Her Christian fiction is set in West Virginia and celebrates the people, the land, and the heritage of Appalachia. Sarah and her husband Jim live in the mountains of Western North Carolina. Visit her website or connect with her on Facebook and Twitter. 
Welcome, Sarah! Tell us about your writing space.
My "official" writing space is a lovely desk near a window in our bedroom. I keep it pretty tidy with craft books on the left, research materials on the right, and a few fun items for inspiration. The window is the best part of the space, though! Of course, I write other places, too. The kitchen table is a favorite spot!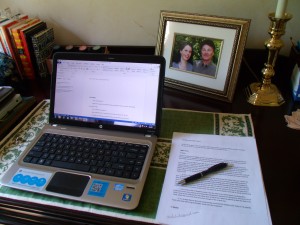 I can relate—my desk is next to a window in my bedroom, too. What makes it special for you?
I keep photos of family where I can see them and above the desk there's a painting of my younger brother and I playing checkers the day I got my bachelor's degree and he got his associate's. My husband commissioned that painting as a gift the first Christmas we were married. Special!
Your painting sounds like an amazing gift. What is one element of your space that makes you smile?
My tiara! I think every girl should have her own tiara and my mom sent me a lovely, sparkly one several years ago. I wear it while writing on occasion. I'm still working on a reason to wear it in public!
A tiara—how fun! Every princess deserves one. 🙂 What are your "must-haves" when you sit down to write?
Time and a laptop are really all I need. I'm not fussy at all. Sometimes I drink tea, but I rarely eat while writing—eating is one my favorite things to do and it's too distracting!
Share a typical writing day.
When I'm writing a first draft, I aim for 1,000 words a day. I come home from work, hike with my husband and dog, make and eat dinner, then settle in to write. Of course, there are a hundred things that can get in the way of that plan! On weekends I'll try to make up for any days I was called away. A couple of times a year I take vacation time to get in some hard core writing or editing. And it really does feel like a vacation for me!
Sounds like you have a writing routine worked out. If you could choose the ultimate writing space, where would it be?
I have visions of an attic or tower room with a window looking out over a vast landscape. Cozy desk, comfortable chair, bookcases . . . But really, my writing space is inside my head and my heart so I can write just about anywhere!
Sounds lovely! Tell us a little about your latest release.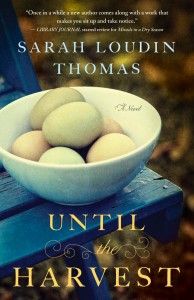 Until the Harvest continues the Phillips' family saga with the next generation. When Henry Phillips' life is derailed by family tragedy his rocky friendship with Margaret Hoffman and her unique little sister will lead him to redefine what it means to find love and healing.
Casewell and Perla's son Henry is thrown off track by a family tragedy and gets mixed up in all the wrong things (moonshine, fast cars, bad women, etc.). Margaret provide a counterpoint to Henry's bad choices. She's trying to do everything right and still can't get her life to turn out the way she wants. Throw in Margaret's younger sister Mayfair—a diabetic who seems to be something of a healer—and life gets complicated.
When I wrote the book I knew what I HOPED the theme was, but I wasn't sure it came through. (After writing and editing a manuscript that many times you get to a point where you're not sure it even makes sense!) I gave it to my husband and after he read it asked him what it was about. He thought a minute and then said, "Love." Ahhh. Yes, indeedy.
I'm looking forward to reading it! Thanks so much for sharing your space, Sarah. Readers, do you have a tiara? Where's the best place to wear it?