I've always been fascinated by other writers' spaces. Some of my writer friends have beautiful offices. Others frequent their favorite Starbucks, Panera, or local libraries to write. Some write at their kitchen tables or living rooms. Because I love to see where others create, I've started Writers' Spaces Wednesdays.
~*~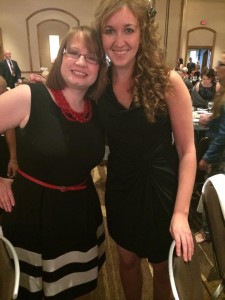 I met Melissa Tagg at the 2010 My Book Therapy Storycrafters Retreat. Sharing a table was the beginning of a beautiful friendship. Melissa and I have similar interests, and she tolerates my weird sense of humor. Rooming with her at ACFW one year proved to be a delight. Melissa has a fabulous sense of humor, sweet spirit, an amazing love for God & her family, and her books line my keeper shelf. She's one of my top favorite authors.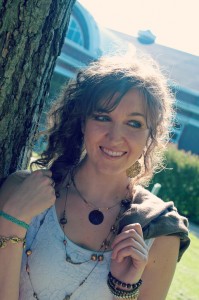 Melissa is a former reporter, current nonprofit grant writer and total Iowa girl. She writes romantic comedy for Bethany House, and is also the marketing/events coordinator for My Book Therapy, a craft and coaching community for writers. When she's not writing, she can be found hanging out with the coolest family ever, watching old movies, and daydreaming about her next book. She blogs regularly and loves connecting with readers at http://www.melissatagg.com or on Facebook, Twitter, and Instagram.
Melissa, so glad to hang out with you today. Tell us about your writing space.
I write all over the place, actually. I do have an office that I use solely as a writing room. It has a big white board, a really nice, large black desk, bookshelves…and a daybed. I also love to write on my couch, in bed, at my kitchen table and at coffee shops. Oh and at my mom and dad's house.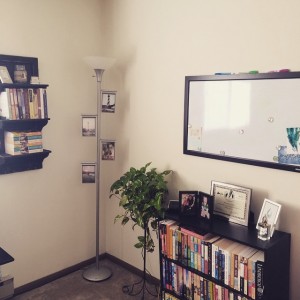 Your space sounds so inviting! What makes it special for you?
What makes this room special is the daybed I mentioned above. I actually got this bed when I turned 13. My parents surprised me that year with by turning the old piano room in the house I grew up in into my bedroom…and they bought a daybed.
The cool thing about that story is that for some reason, growing up, I always wanted a daybed…but I don't remember ever telling my parents that. So when they gave it me, I was all, "OH MY GOODNESS, my parents are amazing and they just fulfilled a dream they didn't even know about!"
So it's fun to have that childhood remembrance in a room where I'm often busy pursuing another dream.
I love your daybed story. What is one element of your space that makes you smile?
Well, there's the bed I just rambled about. But also, I've got some shelves in this room that have some of my very favorite novels—all the books that have inspired me through the years…many written by women who have become friends! And one of the shelves holds the books that started it all—all my yellow-spined Nancy Drew books from when I was a kid.
I loved Nancy Drew novels when I was a kid, too. What are your "must-haves" when you sit down to write?
Up until two weeks ago, I would've said Diet Coke with Lime but *shocker* I recently massively cut back on pop. SADNESS. So now, water, coffee or tea, often some kind of snack like carrots or grapes. And comfortable clothes…flannel pants and a tee are my own version of a superhero uniform.
Hee, now I will picture you as Super Melissa with a flannel uniform when I pick up one of your novels. Share a typical writing day.
Well, I have a day job so when I'm on deadline, I try to rise early and get an hour or so of writing in before work…and then I write a couple hours in the evening. My favorite, though, is taking long weekends and writing from morning to evening. There's something awesome about just sinking into the story without worrying about anything else.
I admire your ability to write before work…I haven't been able to manage that yet. If you could choose the ultimate writing space, where would it be?
Hmm, really, my absolute favorite place to write is my mom and dad's house. They live on a little acreage outside my home town and it's just beautiful. There's a ravine back behind their house—so I love sitting in their sunroom, looking out back and closing away from the rest of the world.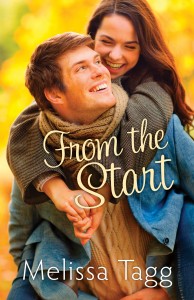 That setting sounds so tranquil. Tell us a little about your latest release.
From the Start is the first in my new Walker Family series. It's about a jaded romance writer and a former NFL quarterback who both end up in my little made-up Iowa town. J It's by far the hardest book I've written…and the most vulnerable.
Kate Walker used to believe in true love and happily ever after. While her own love life may have left her brokenhearted, it hasn't kept her from churning out made-for-TV romance movie screenplays…until a major career slump and a longing to do something meaningful send her running back to her hometown of Maple Valley.
Permanently sidelined by an injury, former NFL quarterback Colton Greene is temporarily hiding out in a friend's hometown to avoid the media and the reminders of all he's lost. Maple Valley seems like the perfect place to learn how to adjust to normal life. The only trouble is he's never really done normal before.
While Kate plays things safe and Colton is all about big risks and grand gestures, they both get what it's like to desperately need direction in life. An unexpected project gives them both a chance to jumpstart their new lives, but old wounds and new dreams are hard to ignore. Starting over wasn't part of the plan, but could it be the best thing that's ever happened to them?
Melissa, thanks so much for sharing your space with us. Readers, what would your typical superhero uniform look like?