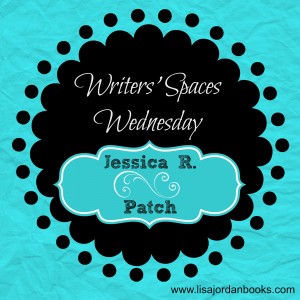 I've always been fascinated by other writers' spaces. Some of my writer friends have beautiful offices. Others frequent their favorite Starbucks, Panera, or local libraries to write. Some write at their kitchen tables or living rooms. Because I love to see where others create, I've started Writers' Spaces Wednesdays.
~*~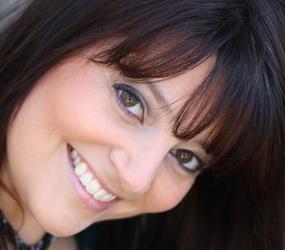 Jessica R. Patch is one of the funniest people I know–ask her about the time she prayed with her husband in church. Add in her sweet spirit, sunny disposition, and her incredible love for the Lord, and you have a friend for life. I love her to pieces. Plus, we're fellow agency mates and Love Inspired authors.
She writes contemporary romance and romantic suspense when she's not talking friends into going on adventures in the name of research or watching way too much Netflix. Her debut novel with Love Inspired Suspense releases in early 2016.
Jess, so glad you're hanging out with me today. Tell us about your writing space.
My writing space is a cozy corner by my bed. I don't have a separate room for an office so this works out nicely. Just my desk, my comfy office chair and everything I need to work!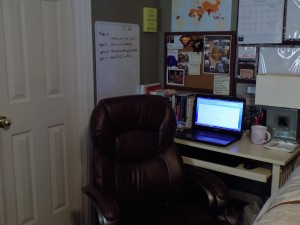 I love how you've created a cozy writing space. What makes it special for you?
I'm here so often, it's my one little place all to myself. During the day, it's quiet because my children are at school and my husband is at work, so I don't have to worry about interruptions.
I totally understand about interruptions. What is one element of your space that makes you smile?
Probably my bulletin board. When I look up, I see a few things that make me happy such as the people I pray for across the world. Project Rescue is a ministry dear to my heart so I love looking at that and it reminds me to pray. The people I've sent Bibles to, two post cards from missionary friends, Scripture verses I pray before I write, and a couple of mementos made by friends.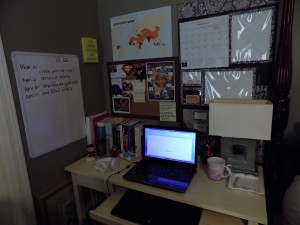 I love your bulletin board. What are your "must-haves" when you sit down to write?
I need my Spotify playlist going, post-it notes, and a clean desk. I hate writing when it's cluttered!
I can't stand a cluttered desk when I write, either. Share a typical writing day.
I get home around 7:30 a.m. from taking my kids to school and I spend about an hour doing housework and forcing myself on the treadmill. I write better when I know my house is clean or at least straight. I'm at my computer by ten at the latest and I write straight on until I leave to pick my kids up at 2 p.m. (of course I take breaks for social media, food, and hot tea since my doctor won't let me have coffee anymore—the jerk 🙂 )After my kids get home and settled, I write about another hour before it's time to fix dinner. I write 5-6 days a week on average.
If you could choose the ultimate writing space, where would it be?
I would choose a room that looked out into the woods and opened up to a screened-in porch. I'd want a couch and a comfy chair, and enough wall space to hold my monster white board and book covers! 🙂
Definitely! Tell us a little about your latest release.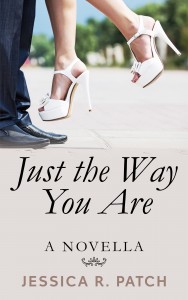 Right now, my second novella Just the Way You Are is FREE to newsletter subscribers, but only until April 22nd. It will then be available for purchase on Amazon. So sign up! Here's a little bit about the story:
When Pastor Gabe asks Audrey Gilbraith to use her mad florist skills to help him design a prayer garden, she's all in, especially since it helps take her mind off the fact she's about to lose her job and her apartment. But working closely with Gabe and not falling for him is complicated. She's not pastor's wife material, and she has the past to prove it. Gabriel Brookson wants out of Audrey's friend-zone, but when he pursues her romantically, he ruffles more than a few feathers in his congregation. How much is he willing to give up for this wonderful, quirky woman, and will Audrey accept him if he risks it all?
Jessica, thanks so much for sharing your space with us today! Readers, remember to subscribe to Jess's newsletter to receive this fun novella with the great cover before time runs out! 
Readers, Jessica has a heart for Project Rescue. What mission or charity tugs at your heart?