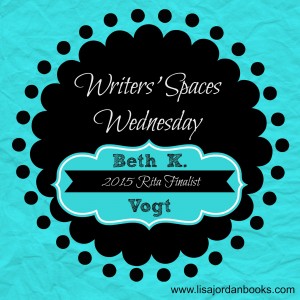 I've always been fascinated by other writers' spaces. Some of my writer friends have beautiful offices. Others frequent their favorite Starbucks, Panera, or local libraries to write. Some write at their kitchen tables or living rooms. Because I love to see where others create, I've started Writers' Spaces Wednesdays.
~*~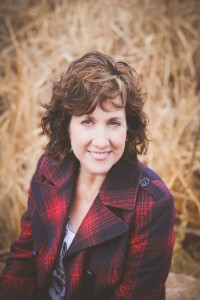 I knew of Beth K. Vogt before I met her in person. We share a mutual writing friend–Roxanne Sherwood Gray. Then I had the pleasure of meeting Beth at the MBT Pizza Party in Denver 2010, I believe? Correct me on the year, Beth, if I'm wrong! We became fast friends, and she's one of my closest writing friends. She's been there during some of the darkest times of my writing life and lifted me up in prayer more times than I can count. She's the kind of friend everyone needs in their lives. I'm so blessed she's a part of mine.
Beth K. Vogt believes God's best often waits behind the doors marked "Never." A 2015 RITA® Finalist and a 2014 Carol Award finalist, Beth is a contemporary romance novelist with Howard Books. Her 2014 novel, Somebody Like You, was one of Publisher's Weekly's Best Books of 2014. In 2015 she introduced her destination wedding series with both an e-novella, Can't Buy Me Love(May) and a novel, Crazy Little Thing Called Love (June). Connect with Beth at her site, Facebook, Twitter, Pinterest, and Goodreads.
~*~
Beth, so glad to have you here today. Tell us about your writing space.
I've had my own dedicated writing office for two years now. Before that, I shared the room with my husband. I think he's forgiven me for kicking him out … maybe.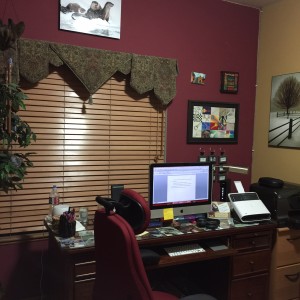 Having met your hubby, I'm quite sure he's forgiven you for kicking him out. I love that rich red on your wall. What makes it special for you?
Two of my besties came and helped me organize my office and really make it mine. Before that, it was often overrun by other people's stuff – or things that didn't have a designated place to go. Now there's a sense of order. Okay, yes, the order sometimes gets lost during deadline, but it's lost beneath my writing life, not other people's stuff.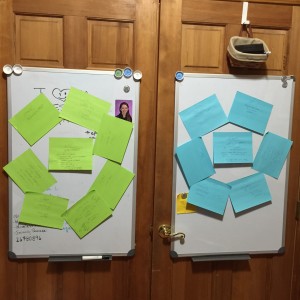 What great friends you have! What is one element of your space that makes you smile?
I've framed my cover flats. It's fun to have a wall space dedicated to my book covers. I also have several pieces of art depicting hummingbirds that mean a lot to me. I have a "hummingbird story" and hummingbirds are a reminder that God loves me.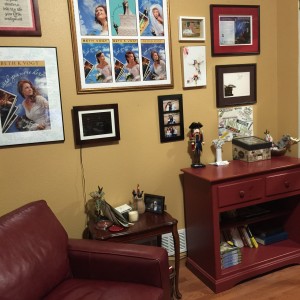 I recognize one of those prints. 😉 What are your "must-haves" when you sit down to write?
I invested in a pair of Bose headphones about eight months ago. Now I wonder what took me so long to buy these? I always make up a playlist for any book I'm writing, and the headphones are just perfect for playing my music. And yes, I do sing along to any song I'm listening to.
I love playlists! Music keeps me inspired when I write. Share a typical writing day.
Lisa, really? You're an author – and you're asking this question? I write in between the interruptions.
Yes, I can totally relate. If you could choose the ultimate writing space, where would it be?
My dream is to one day own a cabin in mountains and be able to escape there to write.
That sounds lovely. Tell us a little about your latest release.
I'm launching a destination wedding series this year. It begins with Can't Buy Me Love, an e-novella that costs all of 99 cents, that releases May 5 (my birthday!). Can't Buy Me Love has a Pinterest angle to the story. And then Crazy Little Thing Called Love, the first novel in the series, releases June 30.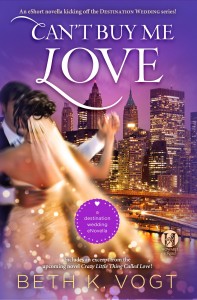 In this e-novella kicking off the brand-new Destination Wedding series, Bellamy, a bride-to-be who dreams of a one-of-a-kind Manhattan wedding, gets caught up in all the planning, and things quickly spin out of control.
What is the true cost of an ultimate uptown wedding? 
Bellamy grew up in a large, boisterous family. The Hillmans may not have had it all, but Bellamy learned how to stretch a dollar and make it look like she did. Now she's marrying Reid Stanton, the man of her dreams. While planning their one-of-a-kind Manhattan destination wedding, Bellamy gets caught up in all things Pinterest. It starts out simply enough with a "Save the Date Destination Wedding" board. Then it's the "Destination Wedding Dresses" and "Invitations" boards. As her ideas multiply, so does the cost of the wedding.
Before she realizes it, all her creative planning has decimated the budget. Can Bellamy make things right, or will the cost of the ultimate wedding be losing the man she loves?
Beth, thanks so much for hanging out with me today.
Readers, be sure to download Can't Buy Me Love when it releases on May 5, and then follow that up with Crazy Little Thing Called Love at the end of June. Just for fun–where would you like to escape to for some quiet inspiration?