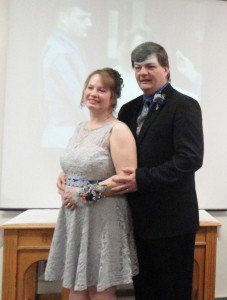 This past October, Hubby and I celebrated our 25th anniversary by renewing our marriage vows in front of family & friends at our church.
We chose to renew our vows for one simple reason–we wanted to reaffirm those promises we said so many years ago…years that have been shaped, refined and molded by laughter, by tears, and by standing together to face the many challenges that came our way.
Our courtship was quite unique. We met in May 1988 when Hubby came into the family restaurant where I had been working as a waitress for the summer. The moment I saw him, I knew my life was about to change. He had a presence about him and the way he carried himself that exuded confidence…he still has it. We became friends, and we communicated long distance for a couple of months by writing letters. Then he came home on leave, and we started dating. By that time, I was so in love with this man who made my heart swoon. I knew he was the one I wanted to spend the rest of my life with.
We talked about a traditional wedding, set a date, and started making plans,. I even picked out the most beautiful wedding gown. Then we realized we didn't want to want another six months to get married.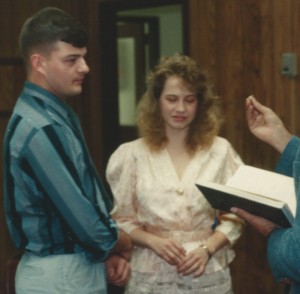 We chose to elope three weeks after getting engaged. I wore peach, he wore gray, and we promised to love, honor and cherish one another in front of a judge, two friends, and the judge's secretary. I tell people it may not have been my dream wedding, but I married the man perfect for me.
Like most married couples, our relationship hasn't always been the fairy tale. We experienced challenges that could have broken us, but we refused to give up. Instead, we worked hard to turn those trials into triumphs. We've used the life lessons from our mistakes to help us to become a stronger couple and better parents to our incredible sons.
The beauty of the past twenty-five years is knowing the young love we first shared has matured into a deep-seated devotion that will outlast anything life hurls our way. Each day I spend with him is an incredible gift, and I'm so blessed.
 ~*~
I'm teaming up with fellow Love Inspired authors Jill Lynn and Jill Kemerer, fellow Books & Such client Jennifer Major, and romance author Jen Turano for a Valentine's Giveaway.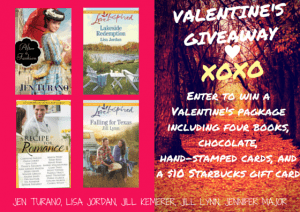 The giveaway includes:
After a Fashion by Jen Turano
A Recipe for Romance collection by Jill Kememer
Falling for Texas by Jill Lynn (her debut novel–Yay!!)
Lakeside Redemption by Lisa Jordan

Hand-stamped cards

Chocolate

$10 Starbucks gift card
Enter here for your chance to win: