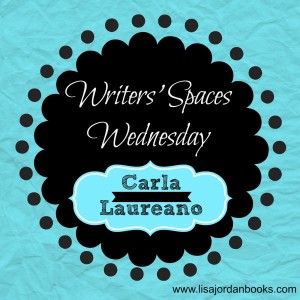 I've always been fascinated by other writers' spaces. Some of my writer friends have beautiful offices. Others frequent their favorite Starbucks, Panera, or local libraries to write. Some write at their kitchen tables or living rooms. Because I love to see where others create, I've started Writers' Spaces Wednesdays.
~*~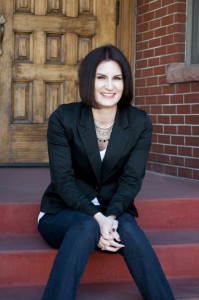 I invited my friend Carla Laureano to share about her writing space and a typical day for her. I "met" Carla through a Facebook group we're both a part of, but after reading her debut novel, Five Days in Skye, I knew I needed to meet her in person. That happened this past September when I rudely interrupted a conversation she was having with a writer/book reviewer so I could introduce myself and get a long overdue hug. In addition to being a very sweet person, she's a gifted writer.
Carla is the author of the Celtic fantasy series The Song of Seare (as C.E. Laureano), as well as the RITA® Award winning romance Five Days in Skye. She's an avid cook, an enthusiastic but untalented singer, and a thwarted world-traveler. She currently lives in Denver with her patient husband and two rambunctious sons.
Connect with her at: Web | Facebook | Twitter | Google+ | Pinterest
Tell us about your writing space.
When we moved into this house, my office was in our finished basement, but in the winter, it is freezing! Last year, when my two boys decided they wanted to share a room, I took over my youngest's bedroom upstairs and turned it into a writing space.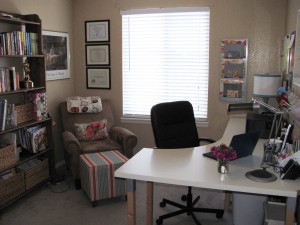 Win for you! Basements can be way too cold. What makes it special for you?
Besides the fact it's warm? Just kidding. I love the fact I have a room big enough to incorporate my favorite books and art prints, a dedicated space to work, and a comfy chair for research reading or reviewing galleys. Plus, now my sons' parakeet has joined me, so she won't be lonely while they're gone.
Your office is gorgeous. What is one element of your space that makes you smile?
My accent colors make me happy! I recently decided I needed a hint of spring with all the tan and white, so I bought a cheery ottoman and pillow…and then found some file folders printed with reproduction silk patterns in the same color. I feel so cheerful whenever I walk into my office decorated in shades of coral and aqua and yellow.
I love your colors. That ottoman is gorgeous. What are your "must-haves" when you sit down to write?
Something hot to drink on my mug warmer, water with a slice of orange in my favorite cup, my planner (to jot down things I need to do so I'm not tempted to get up when I'm supposed to be writing), and my laptop. Depending on where I am in the writing process, I might have a stack of reference books, too. Music is optional. Sometimes I can't write without it; other times, it's too much of a distraction.
Share a typical writing day.
I drop my kids off at school across town first, so by the time I get home, it's about 8:45. I make coffee or tea and get myself settled at my desk, where I let myself check in with my writer friends about their plans for the day (my version of water cooler chat). I try to get down to work by 9:15 or 9:30 and then write until 1pm when I break for lunch. Then it's back to work (often promotion or social media) until 3 when I need to leave to get the kids. This only gives me about six hours in a work day, so depending on my deadlines and commitments, I typically work another hour or two after my boys go to bed, usually emails, social media, or blog posts. When I'm fast-drafting a book, I only let myself call it a day after I've gotten my word count in—which is usually about 2000 words—regardless of whether that takes me two hours or twelve.
You seem very organized and disciplined with your time. If you could choose the ultimate writing space, where would it be?
I want one of those little cabins in the woods you see on Pinterest all the time…or maybe a tiny trailer house. Wouldn't it be fun to have a mobile 150 sq ft office with bathroom and kitchen and a loft area for naps and reading? Yes, I need to figure out how to make this happen…
Those tiny homes are adorable! Tell us a little about your latest release.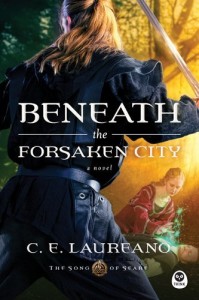 Beneath the Forsaken City is the second book in my Song of Seare Celtic fantasy series. My protagonists Conor and Aine have just barely escaped Seare with their lives, but they are quickly thrown into as much danger as they left behind. Meanwhile, things back home become increasingly dangerous as their enemy seeks to destroy anyone who can stand against him. I'm told by early readers that this book is non-stop action with lots of surprises… which is possibly the best compliment I can get!
Carla, thanks so much for giving us a peek inside your writing world. I'm so excited to see how this year unfolds for you!
Readers, what aspect do you find most fascinating by a writer's life?