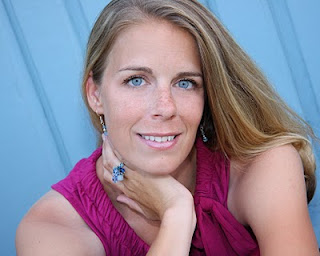 While visiting different blogs, I came across a blog called Thoughts That Move. The posts spoke to my heart and made me think. This writer had a powerful way with words. Imagine my delight when she became an agent mate! Wendy Paine Miller and I are represented by the fabulous Rachelle Gardner. I met Wendy in person for the first time at the 2011 ACFW conference. Meeting her was one of the highlights of my conference experience. I'm thrilled to have her as a guest blogger today. 
Wendy Paine Miller's works have been published in anthologies and on numerous websites. Having completed eight women's fiction manuscripts, Wendy is just getting started. She feels most alive when she's speeding in a boat, reading, writing, refurbishing furniture, laughing, running, and trusting God. Wendy lives with her husband and three children. She's represented by Rachelle Gardner of Books & Such Literary Agency. Wendy appreciates connecting with readers. She'd love for you to visit her blog: http://thoughtsthatmove.blogspot.com/ or follow her on Twitter @wendypmiller.
~*~
If you were to ask me the moment I knew my husband and I were going to be in it for the long haul I'd tell you it was not at all when I expected it to be. Not when he got on one knee. Not during the ceremony. Before all that…
Picture this: I'm sitting in an impressive well-polished boardroom in Bellevue, Washington, receiving official news of my promotion to a corporate account manager and instead of beaming, I'm sinking on the inside. Two minutes before the meeting I'd heard from my OB/GYN's office. They wanted me to come in that afternoon for another ultrasound.
"Can it wait?" I urged, whispering into the phone, thinking about my wedding less than a month away. Wondering what could be so pressing.
"No. We found a tumor and we need you to come in today."
Stop here. Tumors and me, see, we don't get along so well. Ever since I was thirteen and I learned of the cancerous astrocytoma in my sister's head, the word kind of freaks me out to no end.
But they had—found a tumor that is. A big one. And it needed out ASAP. Which meant I needed major surgery within a month of my wedding. Which meant my stomach would be sliced and I'd have to endure a lengthy recovery process.
Confession: Above all things I was most scared to tell my fiancé, Steve.
In follow up consultations we were told we might not be able to have children. A month before our wedding. We were warned of the consequences. He knew all he was getting into.
And I feared he'd think it was damaged goods—I was damaged goods.
I'd been informed going in I'd either have a laparoscopic surgery or a more invasive one, depending on what the doctor found as she operated. The drugs kicked in and I slipped into la la land, only to wake up and immediately ask Steve, waiting by my side, "Was it the big surgery or the little one?"
He smiled at me. "The big one." Smiling? After I regained full consciousness I could feel it, the ache in my lower abdomen as though someone carved at me like a pumpkin. The big surgery meant increasing our risk of being able to conceive.
I began my arduous recovery, feeling an overall pervasive embarrassment. Embarrassed to be so weak. Ashamed to have lost such control of normal functioning (God bless the nurse who cared for me. I'll never forget how kind she was). Afraid Steve would no longer want me.
I began this post saying there was a specific time it registered that my husband and I would grow old together. That's not entirely accurate. There were moments and many of them came in these days of learning about my tumor and during my recovery.
The second I woke up and saw his face.
The grin he gave even though he was well aware of what my surgery could mean for us.
How he took my hand and helped me walk the room.
How not once, not even once, did he look at me with a defeated look, but instead, through every painful second he held the same adoration in his eyes for me. For me, maimed. With a long road of healing ahead. For his wife to be.
Steve also demonstrated his love by all he didn't say or do.
And I knew.
I knew we could make it through anything.
Your Turn: If you're married, what challenges have you faced with your spouse to know you're in it for the long haul? If you're single, have you faced a similar situation with a loved one or significant other? How did you handle it?