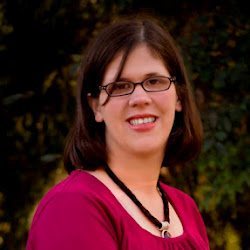 I'm thrilled to have my fellow agent-mate Krista Phillips back as a guest author today. She was a guest author back in August with her wonderful post, Until…it is you.
I had the privilege of spending a little time with Krista at the recent ACFW conference and did a happy dance at seeing her book in the ACFW bookstore. 
Krista writes inspirational romantic comedy. She believes a sprinkle of laughter (and a wee bit of chocolate) makes everything a little better! She blogs regularly about life as a wife, mother, follower of Jesus, and mother of a child with a rare congenital heart defect at www.kristaphillips.com. Her debut novel, "Sandwich, With a Side of Romance," released in September, 2012.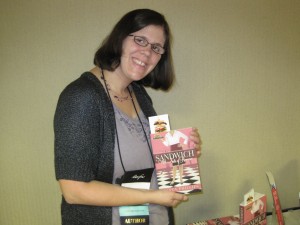 ~*~
I love my husband.
That's a pretty good thing, huh!
I LOVE writing romance, but one of the common things I hear from Christians who do NOT love Christian romance is that it creates an ideal in relationships that is unachievable.
To a point, I agree.
That perfect hero… six-pack abs, swoon-worthy manners, isn't tempted in the least to look at another woman, and loves our heroine to distraction regardless of her faults. Oh, and he has a fabulous job and can easily support our heroine.
*sigh*
Why can't MY husband be like that?
While I am madly in love with my husband, I'll readily admit that he isn't one that I would write as the hero in a book. He's super quiet, work his fingers to the bone in a not-so-sexy job to put food on our table, has a little pudge around his middle, and his sweat isn't quite as appealing as our heroine's obviously feel like our heroes sweat is.
But he's mine.
And I'm head over heels in love with him.
To expect him to live up to the standards of a romance novel is pretty insane.
And as a woman who reads romance, even Christian romance, I agree that to lust over fictional characters is just as bad as doing so over a "real" person.
So does this make Christian romance wrong? Lead us to temptation?
Maybe. If it does, then honestly, don't read my books. I won't mind.
But my real hope is that my readers won't want my hero for themselves.
Instead, I hope…
For my single readers, that they will realize the importance of waiting for the man GOD wants for you, and how GREAT the romance can be when you do.
For my married readers, that just maybe the romance will remind them of the spark with their own spouse that sometimes needs a little kindling from time to time.
That we'll remember that the ultimate romance between the bridegroom (Jesus) and his bride… US! 
Your turn: Do you feel romances (Christian or secular) create an idealistic view of romance? Why or why not?
~*~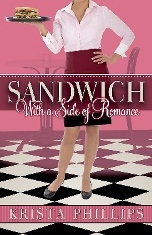 She moved to Sandwich, Illinois, in search of a new life, but ended up in a giant pickle. 
Sandwich represents hope for twenty-year-old Maddie Buckner and Kyle, the eleven-year-old brother Maddie wants to spring out of foster care. Then she loses her new job after less than a day. It's all Reuben-the-Jerk's fault, and she's determined to make him right the wrong.
He does so, reluctantly, by giving her a job at his restaurant, The Sandwich Emporium. Then crazy things start happening at the restaurant, and Kyle's foster parents apply to adopt him. To stop it all, Maddie must learn the art of humbling herself and accepting the help God has arranged, risking her heart to Reuben in the process. And she'd rather eat a million corned-beef on rye sandwiches than do that.
Available for at…
Amazon.com
Christianbooks.com
barnesandnoble.com 
Booksamillion.com
or ask for it at your local bookstore!