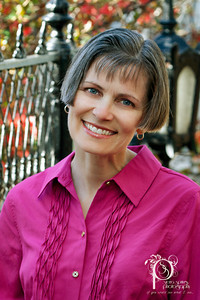 Keli Gwyn is one of the most encouraging people I know, who is quick to promote others. We became friends through the blogophere, and we share the same agent, Rachelle Gardner.  
Keli writes stories that transport readers to the 1800s, where she brings historic towns to life, peoples them with colorful characters, and adds a hint of humor. A California native, she lives in the Gold Rush-era town of Placerville at the foot of the majestic Sierra Nevada Mountains. Her debut novel, A Bride Opens Shop in El Dorado, California, set in the heart of the Gold Country where she lives is currently available. When Keli's fingers aren't hovering over the keyboard of her newfangled laptop, she enjoys strolling past stately Victorian houses in her historic town, burying her nose in reference books as she unearths interesting facts to include in her stories, and interacting with other romance readers. Her favorite places to visit are her fictional worlds, the Coach factory outlet store, and Taco Bell. To learn more about her, visit her website.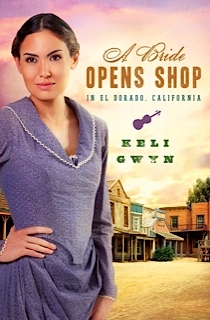 Widow Elenora Watkins is determined to provide for herself and her daughter without relying on anyone else. Can she run a successful business after falling for the competition? Miles Rutledge finds himself willing to do anything to keep Elenora in town. But can he win her heart while putting her out of business?
*** 
Is your guy into cars? Mine is.
Judging by the malespeak heard during the fellowship time after church on Sundays, many men have a thing about their vehicles. We have fellows who are into British cars, a guy who's getting his Cobra back on the road, and Jeep owners who are rock crawling enthusiasts.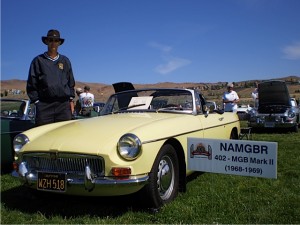 Gwynly owns a '68 MGB roadster he's had since 1970. His pale yellow sports car, Midge, brings him a lot of pleasure. He likes working on her engine, polishing her until she gleams, and taking her for a spin.
Because I know how much enjoyment Gwynly's blonde British beauty brings him, I've worked to develop an understanding of his bond. I'll never be as attached to Midge as Gwynly is, but for his sake, I searched for ways to share his interest and found five.
1. Shift my focus. Rather than thinking about how I'd like him to romance me, I've realized that if I put his hobbies and interests first—in this case his car—I can romance him.
2. Learn some car talk. Since Gwynly spends upwards of half an hour each Sunday talking with his male friends about cars, he must be as into them as I am into writing. Thus, it's important that I expand my vocabulary. For example, over dinner recently he mentioned how much better his gas mileage is since his mechanic adjusted Midge's SUs. That might not mean anything to you, but to the wife of this MG enthusiast that means Lawrie changed the mixture in the carburetors so the "B" is running leaner and cleaner.
3. Wax eloquent about his set of wheels. After Gwynly's spent hours applying polish and rubbing it off, I run my hand over the shiny surface and tell him how nice Midge looks. If our guys have been hunched under the hood for half a day replacing a part, we can ask them to show us the results of their hard work and thank them for it.
4. Put the brakes on the complaints. There were days early in our marriage when I was jealous of the time Gwynly spent with Midge. I'll admit that I wasn't very understanding or supportive. OK, I was downright grumpy. I griped and complained and whined and wheedled because I wanted his time and attention. These days I park my tongue when I'm tempted to moan and groan.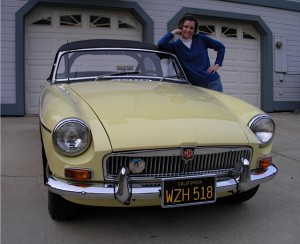 5. Enjoy the ride! Making the effort to connect with our guys by showing genuine interest in their cars can pay off. We can rev their romance engines with a compliment or a word of gratitude about how well they maintain their fleets, fueling their desire to romance us in return. And we can literally enjoy going on rides with our guys. I've found Gwynly relaxes, opens up, and converses freely when he's behind the wheel. Put him in the driver's seat of his B with the top down and his gal by his side, and the romance shifts into high gear.
Your Turn: Do you compliment your guy on his car and his car care? Do you enjoy going on rides with your guy? Do you know what your guy's dream car is?
Keli is giving away a copy of A Bride Opens Shop in El Dorado, California. Leave a comment for a chance to win!