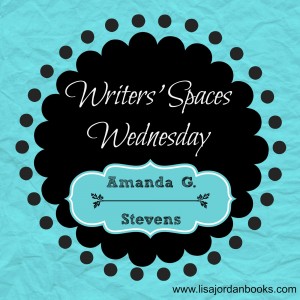 I've always been fascinated by other writers' spaces. Some of my writer friends have beautiful offices. Others frequent their favorite Starbucks, Panera, or local libraries to write. Some write at their kitchen tables or living rooms. Because I love to see where others create, I've started Writers' Spaces Wednesdays.
~*~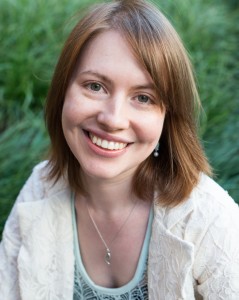 I've known Amanda for several years. We met through My Book Therapy at the 2012 Deep Thinker's Retreat. Her name tag labeled her as "AJ" and since then, that's what I've called her. She's such a sweet person, who writes amazing stories. As a child, Amanda G. Stevens disparaged Mary Poppins and Stuart Little because they could never happen. Now, she writes speculative fiction. Holding a Bachelor of Science degree in English, she has taught literature and composition to home-school students. She lives in Michigan and loves books, film, music, and white cheddar popcorn. Find her on my website, Twitter, Facebook, and of course the book lover's time-sucking paradise: Goodreads!
Tell us about your writing space. 
My writing space is my living room. I alternate between my couch and my chair, which is one of those oversized, not-quite-loveseat things; I can take a nap in it if I curl up a little. Sometimes in the middle of a scene I'll move from one piece of furniture to the other for no discernible reason. They're only about five feet apart, so I don't know why it matters.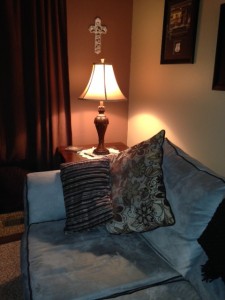 It looks so cozy and comfy. What makes it special for you?
My aquarium. Sometimes when I'm stuck, I'll brainstorm while staring at my fish. They're cichlids, high energy and aggressive; drifting peacefully is rarely their thing. It makes them entertaining to watch.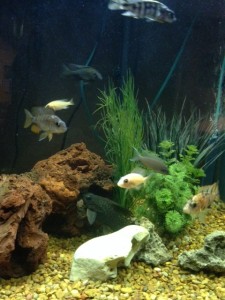 We used to have an aquarium when our boys were younger. Fish are so relaxing to watch. What is one element of your space that makes you smile?
See above, I guess? My living room is pretty unremarkable otherwise.
What are your "must-haves" when you sit down to write?
This time of year, fuzzy socks and a throw to keep me warm. If I'm sleep-deprived on a deadline, I make sure to have a Starbucks Frappuccino (mocha or vanilla).
With the winter we've been having, I'm so with you on the fuzzy socks and throw. Share a typical writing day.
I work a full-time day job, so my writing day never starts before 5:00 p.m. I get home, make dinner, and do necessary life stuff. Then, ideally, I read a well-crafted book for an hour or so before trying to craft my own. Reading something wonderful wakes up my own "voice." Also ideally, I go to bed around midnight with a good word count accomplished. Of course, sometimes I get distracted by Goodreads. Sometimes I just get stuck with my characters. Sometimes I realize it's 2:30 a.m. and I have to wake up in five hours. (I do not recommend this, but I do it often.)
As someone who maintains a full-time day job, I understand how limited your writing time is. I'd be a zombie if I stayed up that late, though. 🙂 If you could choose the ultimate writing space, where would it be?
Someday soon I hope to find a modern, comfortable sleeper chair for my library, so I can alternate that space with my living room. I love being surrounded by books I have read and want to read. David Quammen describes books as "the most comforting sort of intellectual wallpaper," and they are that for me too. If we're letting me design a fantasy writing space, then it would have my aquarium and my books in the same room and it would be located in a perpetually mild climate so I could always have the window open.
Your ideal space sounds so inviting! Tell us a little about your latest release.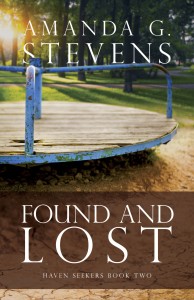 I'm currently working on a dystopian series called Haven Seekers. The second book, Found and Lost, just released this month! In my storyworld, the government has seized control of the church and retranslated the Bible. Each of my characters are affected by this world in different ways, depending on their personalities and their beliefs. And I love these characters. My series protagonist, Marcus Brenner, is a new Christian who is stubborn and loyal and ready to do anything to protect his Christian "family."
In Found and Lost, we meet Clay Hansen—husband, father, lover of literature, questioner of God. And we meet Violet DuBay—a teen girl who's grown up in this world and is forced to question it for the first time in her life.
Amanda's note: Haven Seekers is a series in the traditional sense (i.e. a serial plotline) so should be read in order.
AJ, thanks so much for inviting us into your writing space today. I'm so excited about your writing career. 
Readers, what are your "must-haves" when you curl up with a good book?