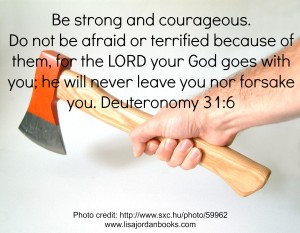 In January 2009, Hubby came home from work early. I was so surprised to see him and asked if he was feeling well. He had an expression on his face that imprinted into my memory. Before he said anything, a chill coiled in the pit of my stomach. My heart pounded against my ribcage. Then he said the words that sent a spiral of panic coursing through my veins…"Due to economic downsizing, I've been let go."
His position had been eliminated.
I'm a stay-at-home-work-at-home mom, but Hubby's income was our primary financial resource, and he carried the insurance for our family. 
After the initial shock wore off, I remembered a conversation I had with God a few months before that. I had thanked Him for Hubby's recent promotion, then asked Him to prevent Hubby from being affected by the layoff rumors.
From January 2009 to July 2012, Hubby had a couple of temporary jobs, but nothing permanent. God opened the door for him to return to school to get his degree in business. However, when he graduated, he struggled to find a job. He received interviews, even second interviews, but no job offers…until God opened that door last July. 
During those three years, I learned a few things about supporting a spouse:
Pray for your spouse. Ask God to give you the words to encourage and the patience to endure the trials to come. Ask God to open doors on your spouse's behalf. Ask God to give your spouse a sense of fulfillment and encouragement.
Expect a variety of emotions. Hubby's career counselor likened losing a job to going through divorce. Your spouse may experience negative emotions–sadness, frustration, depression, anxiety, feelings of failure–and it's so hard to see him feel this way. Men, in particular, feel the need to be providers. When this is taken from them, they struggle and can feel like they're failing their families.
Speak his language. His love language, that is. Let him know through your positive actions and words that you've got his back–you'll be by his side and you will work through this together. Speak truth to his strengths. Remind him of his positive traits. Encourage him to stay active in his other roles.
Voice your expectations. If you'd like your spouse to take on more responsibilities around the house while he's looking for a new job, be sure to work together so you both know what each other's expectations are. Men and women have different ideas of clean and what needs to be done. Your hubby may not be bothered by the overflowing laundry basket or realize you've been out of milk for two days. Being clear in your expectations helps to eliminate frustration and resentment.
Consider your finances. Review your finances as a couple and share ways you can cut back on unnecessary expenses. Be creative for date nights and family fun events that cost little or no money. 
Resist the urge to "help" your spouse with his job search. While you may think you're being helpful by sharing job opportunities from the classifieds or Monster.com, your spouse may feel pressured already. 
Your spouse's loss of job can turn out to be a mixed blessing–more family time, less time spent commuting. Be sure to take time to communicate concerns. Be quick to listen and slow to lash out in anger or frustration. This is a difficult time for all of you, but it's a season. God has a plan and a purpose for your lives.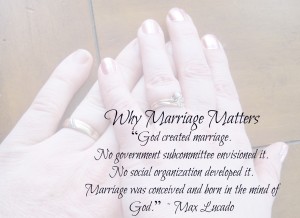 Your Turn: Has your spouse or another family member experienced a job loss? How did you support him or her?
If you'd like to write for Why Marriage Matters, be sure to read the details here: Why Marriage Matters Guidelines