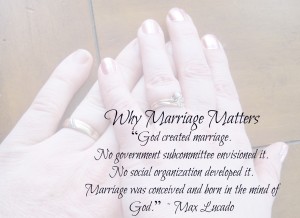 Therefore encourage one another 
and build each other up, 
just as in fact you are doing.
1 Thessalonians 5:11 NIV
Quite a few years ago, I "vented" to my then sister-in-law (she and my brother-in-law have divorced since then) about something my husband had or hadn't done. I said, "I don't mean to complain, but…"
She replied, "Yes, you do, but you're frustrated."
Her response floored me.
I meant to complain? No, I wanted to vent. There's a difference. Right?
No.
Venting equals complaining. By doing so, I was tearing down my husband. 
Quite honestly, I get quite annoyed by male bashing because I'm the only female in my house. By lumping all men together, I'm saying my husband and my two sons are part of that group of men who can't do anything right. 
And that's not the perception I want any of them to see from me.
I saw a quote on Pinterest stating, "Don't talk bad about your husband to anyone. Ever."
I have to confess and say I was convicted by that statement. 
Yes, I get frustrated, but it's my choice how I deal with that frustration.
I want my husband to feel like the most important person in my life. I want him to know I have his back. I want to build him up so he's the man God created him to be. 
Here are my simple tips for building up your husband:
Pray daily. Pray for his spiritual walk. Pray for his parenting skills. Pray for his job. Pray for his health. Pray for his attitude. Pray for his devotion in your marriage.
Speak truth. Tell him how much you love him every day. Let him know what a good father he is. Share something about him that you love. Every. Single. Day.
Love always. Love is a choice. Love is a commandment from God. Love is essential to every marriage. Say "I love you" daily. Show how much you love him by doing something that pleases him, even if it's something little like making his lunch or keeping his laundry washed and folded. 
Honor him. You made a vow to honor him for the rest of your life. A promise. When the marriage gets tough, don't be so quick to end the marriage. 
Choose peace. Frustration happens because our insecurities surface or our expectations aren't being met. If you find yourself becoming frustrated with your husband, consider why. If he didn't take out the garbage like you asked, is it worth getting on the phone and griping to your best friend? Maybe he did forget. Instead of lashing out, let him know how you feel and what expectations you had in a way that strengthens your bond instead of biting his head off. 
Model Godly behavior. If you have children, you are modeling behavior. They notice when Mommy and Daddy fight, when they show love and how to have a strong marriage. Model the kind of Godly behavior you want your son or daughter to share with their future spouses. Instead of calling Daddy an idiot, make sure your child knows about Daddy's intelligence or kindness. If you're in a spiritually mismatched marriage, your Godly behavior will be noticed by your husband.
Building up your husband takes purposeful thought and effort, especially if you've fallen into a negative pattern. If you're struggling in your  marriage, take it to God in prayer. Every marriage is different and no couple is perfect, but with God's help, you can have the kind of marriage you desire. Building up your husband daily will go a long way in creating a marriage that lasts a lifetime. 
If you would like to write a guest post about Why Marriage Matters, please email me via my contact page, and I'll be in touch. For Why Marriage Matters guest post guidelines, click here: Why Marriage Matters guidelines. 
Your Turn: If you're married, how do you build up your spouse? If you're not married, how do you see others build up their spouse? Share examples. 
Tweet to share: Are you building up your husband? @lisajordan shares Why #Marriage Matters: Building Up Your #Husband http://ow.ly/j8WVN