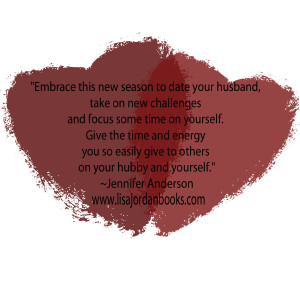 This week is going to be an emotional, yet exciting week for our family. Our youngest leaves on Thursday for college, which pushes Hubby and me into a new season of life—empty nesters.
After we came home from school shopping last Saturday, I posted a comment on Facebook stating I wasn't ready for Thursday to come, and I asked my Facebook friends if the empty nesters had any advice to share.
I loved reading through all of the comments, which suggested tissues, enjoy it while we can since kids seem to come back home, etc, but one comment by my Ponderer sister Jennifer Annderson really struck my heart. She said,
"Embrace this new season to date your husband,
take on new challenges and focus some time on yourself.
Give the time and energy you so easily give to others
on your hubby and yourself."
When Hubby and I started dating over 25 years ago, we had an unusual courtship. He was stationed 6 hours from me, so our relationship blossomed through letters, phone calls and weekend visits. We learned to make the most of the time we had together. Then after we got married and started a family, our couple time was pretty non-existent as we juggled family, work, church, school activities, etc.
Now that both of our boys will be in college, our evenings will be very quiet. So much of our relationship has been centered on our boys and their needs.
Now it's our time.
Our time to reconnect.
Our time to rediscover the passion for one another that brought us together in the first place.
Our time for ourselves.
As I put on makeup before church on Sunday, I had to dry my eyes several times in order to apply mascara. I kept thinking it was the last worship service with my son before he left for college.
As a mom, I highlighted many firsts during my boys' developing years. But as new "firsts" emerge, my mama's heart wants to cling to some of those "lasts."
My son has been in church since he was a young toddler. Sunday morning, I had a discussion with God as I unburdened my aching heart. God cradled me and reminded me He had to let his Son go too, so He understood my pain. But, He also reminded me our son has a rooted faith, and he wouldn't be along as he embarked on this new adventure in his life.
I breathed in the knowledge that God's got this. God understands my struggle to let go and let my boys live their lives, but He reminds me He has a plan and purpose for their lives. I need to allow Him to do a good work in them.
And He also reminded me of Jennifer's words of wisdom to embrace our new season to date each other, to take on new challenges and to give the time and energy we poured into others and pour it back into our marriage. After all, God's got that too.