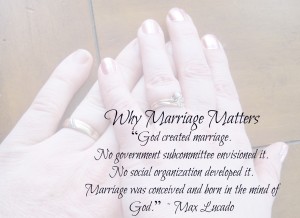 "God created marriage. No government subcommittee envisioned it. No social organization developed it.Marriage was conceived and born in the mind of God."  ~ Max Lucado
As a Christian woman and a wife, I believe in the sanctity of marriage as ordained by God—the official union between a man and a woman.
In today's culture, many people consider marriage archaic. I've read many articles about couples in Hollywood getting engaged but refusing to get married until marriage is equal for everyone.
Holy matrimony—ordained by God—isn't everyone's choice. When God created marriage, he designed it as a union between a man and a woman.
As our world falls away from traditional values and embraces worldly behaviors, we need to encourage others to preserve the sanctity of marriage. 
Those closest to me know my core values. They know I embrace promises of hope and happily ever after. For me, happily ever after means being married to a heroic husband who honors, loves and cherishes me as God intended.
Since I express myself better through words, I've chosen to mark Mondays on my blog as Why Marriage Matters. My voice isn't loud, but I can share my words with others.
And I invite you to share your words, as well.
Each week I will host guest bloggers sharing why marriage matters to them. I'd love to hear from men and women, married or single. If you and your spouse would like to co-write a post, I'd love to host your shared post. 
Please follow these guidelines to stay within the theme of why marriage matters: 
Posts should be focused on some aspect of why marriage matters to you. You may speak of love, marriage, family or relationships, no matter if you're male or female, married or single. 
Please keep your posts to 400 words or less.
Please conclude your post by asking an open-ended question to engage readers in conversation.
If you're able, reply to comments left on your post within the week of your scheduled date.
Please include the following with your post:

A photo of you and your spouse, if you're married. If you're single, a photo I can use with your blog post.
Favorite scripture or quote that fits with the theme of your post.
Brief bio (around 75 words)
If you are a published writer, you're welcome to share your current book cover & back cover copy for additional publicity.
Please send your post and necessary info to me a week before your scheduled due date. 
If you would like to write a guest Why Marriage Matters post, please leave a comment with your email so I can contact you for scheduling, or you may email me at lisa at lisajordanbooks dot com and put Why Marriage Matters Guest Post in the subject line. 
Your Turn: Why does marriage matter to you?

(If you're so inclined, please consider "Liking" my Facebook Author Page and subscribing to my newsletter.)
Tweet to share: Why does #marriage matter to you? @lisajordan offers a blogging opportunity for those who believe in holy matrimony http://ow.ly/izhK6