I love words. Long before I became a writer, I was an avid reader. I had fallen so in love with story that I knew I wanted to write my own. So my love of words has deep roots.
Words have power.
Words impact lives—the words we speak, the words we write, and the words we read.
I used to make some sort of pact with myself—usually resolving to lose weight—and by the end of January, I'd failed. I do not like setting myself up for failure, so one way to prevent that from happening was to stop making New Year's resolutions.
I do not like setting myself up for failure. One way to prevent that from happening was to stop making New Year's resolutions. #tellhisstory #oneword #2022
Click To Tweet
Time for a Change
About thirteen years ago, I decided to make a change. Now, instead of writing out resolutions that may or may not be broken before January slides into February, I choose one word as the basis of my focus. This One Word is the foundation for living a values-based life.
Each year, I like to review my past list of One Words and reflect on how God has used each one to build upon the previous years' words to grow my faith. I'm not the same person I was in the past, and by the time January 2023 rolls around, I will be (hopefully) an even better person who wants to live her life to honor Him.
Each of these words—Change, New Opportunities, Hope, Faith, Freedom, Simplify, Restore, Thrive, Anticipation, Linger, More, Pursue, Light—has impacted me in different ways. Some years were challenging to stay steadfast to that One Word. God doesn't promise us an easy walk as Christians, but He does promise never to leave us nor forsake us. That's a promise I lean into when I'm going through those very difficult days and weeks and months that have dropped me to my knees over and over.
One Chosen Word
Toward the end of 2021, I considered different words as my One Word for 2022. Abide and strength were two that stood out, but neither felt just right.
Also, around November, God was nudging my heart to create an online ministry of sorts to encourage women to become prayer partners with God. I had no idea what that looked like…or if it was even from Him. So I prayed and asked for wisdom and guidance of what this encouragement ministry would look like. I came up with a couple of names, but again, they didn't seem like the right fit.
During the middle of December, Books and Such, my literary agency hosted a virtual Christmas party. Mary DeMuth, author, artist, and agent with Books and Such, concluded our party with a gorgeous prayer. She prayed the phrase, "a knee-worn people." She gave me permission to share this beautiful prayer she created.
"A Knee-worn People"
The Lord spoke to my heart and said, "there's your One Word…and the name of your encouragement ministry."
My word for 2022 is Knee-worn.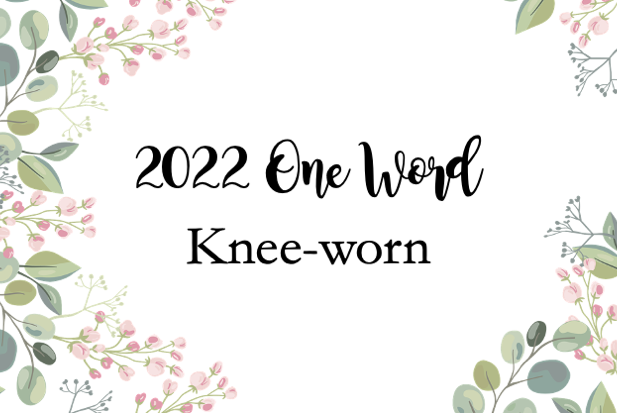 The Lord spoke to my heart and said, "there's your One Word…
Click To Tweet
I battle rheumatoid arthritis, which is an autoimmune disorder in which my body attacks itself. I was in remission for a couple of years, but the grief from losing my sweet dog in July threw my body into a flare-up. Even though the flare-up has passed, I still deal with pain on a daily basis. Especially in my knees.
Isn't that so like God using our weaknesses to show His strengths?
Getting on my knees can be challenging most days, but kneeling before the Lord is such a privileged, humbling experience that it's worth the pain. When we humble ourselves and lift up our praises and petitions to our Heavenly Father, it deepens our relationship by depending on Him to meet all of our needs. More than anything, He longs to have that intimate relationship with each one of us. What better way than to kneel on weary knees and surrender our lives, asking Him to align our hearts to His will?
Next week, I will share about my new encouragement ministry, The Knee-worn Woman, and invite you to join me in this exciting journey of becoming prayer partners with Jesus.
In the meantime, how does One Word impact your life?
How does One Word impact your life? #tellhisstory #oneword
Click To Tweet
We invite you to share your story at the Tell His Story linkup. Be encouraged by like-minded friends! #tellhisstory #linkup #christianliving
Click To Tweet
You are invited to the Inlinkz link party!