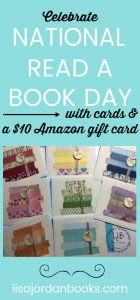 I love to read! How about you? 
In fact, my love of reading led to my desire to become a writer. One author's words changed my life. 
But reading and writing aren't my only loves. I'm a creative who loves to play with words, photos (scrapbooking), and fibers–paper and yarn. Crafting is my therapy. Cheaper than a weekly visit to a counselor, and a lot healthier than chocolate…although, chocolate is involved when I'm crafting with friends.
As someone who loves books, words, and paper, I figured the best way to celebrate National Read a Book Day was by stamping a set of cards. I was inspired by cards I'd found on Pinterest that led me to Pink Paper Bakery. Using her card as inspiration, I dug through my box of scraps (filed by color in a photo box from Michael's) and pulled out five coordinating papers in 8 color families to make this set of 8 cards.
I used white cardstock cut at 8.5″x 5.5″ and folded as my base and then I added a cream-colored layer cut at 5.25″x4″. Each stack of books is bound together and tied with a tag that reads, "hello, my friend" from the Stampin' Up! Tap Tap Tap stamp set. If you would like complete instructions on how to create these cards, contact me and I'll send you the PDF tutorial.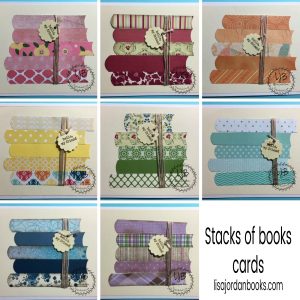 What better way to celebrate National Read a Book Day than to recommend a great read?!? Here are new releases from some of my favorite authors: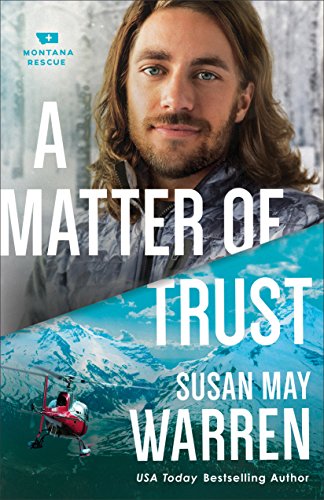 A Matter of Trust by Susan May Warren
Champion backcountry snowboarder Gage Watson has left the limelight behind after the death of one of his fans. After being sued for negligence and stripped of his sponsorships, he's remade his life as a ski patrol in Montana's rugged mountains, as well as serving on the PEAK Rescue team. But he can't seem to find his footing–or forget the woman he loved, who betrayed him.
Senator and former attorney Ella Blair spends much of her time in the limelight as the second-youngest senator in the country. But she has a secret–one that cost Gage his career. More than anything, she wants to atone for her betrayal of him in the courtroom and find a way to help him put his career back on track.
When Ella's brother goes missing on one of Glacier National Park's most dangerous peaks, Gage and his team are called in for the rescue. But Gage isn't so sure he wants to help the woman who destroyed his life. More, when she insists on joining the search, he'll have to keep her safe while finding her reckless brother, a recipe for disaster when a snowstorm hits the mountain.
But old sparks relight as they search for the missing snowboarder–and suddenly, they are faced with emotions neither can deny. But when Ella's secret is revealed, can they learn to trust each other–even when disaster happens again?
The Writing Desk by Rachel Hauck
Tenley Roth's first book was a runaway bestseller. Now that her second book is due, she's locked in fear. Can she repeat her earlier success or is she a fraud who has run out of inspiration?
With pressure mounting from her publisher, Tenley is weighted with writer's block. But when her estranged mother calls asking Tenley to help her through chemotherapy, she packs up for Florida where she meets handsome furniture designer Jonas Sullivan and discovers the story her heart's been missing.
A century earlier, another woman wrote at the same desk with hopes and fears of her own. Born during the Gilded Age, Birdie Shehorn is the daughter of the old money Knickerbockers. Under the strict control of her mother, her every move is decided ahead of time, even whom she'll marry. But Birdie has dreams she doesn't know how to realize. She wants to tell stories, write novels, make  an impact on the world. When she discovers her mother has taken extreme measures to manipulate her future, she must choose between submission and security or forging a brand new way all on her own.
Tenley and Birdie are from two very different worlds, but fate has bound them together in a way time cannot erase.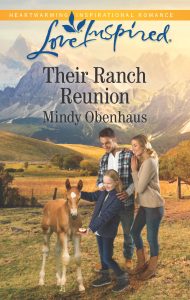 Their Ranch Reunion by Mindy Obenhaus
Single mom Carly Wagner is surprised to learn she'll have to share ownership of the home she's inherited with her first love—and first heartbreak—Andrew Stephens. The man who fled their tiny Western town is back and standing in the way of her dreams to expand her B and B. Now a successful businessman, Andrew has eight weeks to buy Carly out. But Carly's too stubborn to persuade—and too beautiful to ignore. When fire ravages her inn and she and her daughter move into their shared property, Andrew's in over his head. Time is running out and Andrew must decide: leave and chase another deal…or stay and chase Carly's heart.
~*~
To help you celebrate National Read a Book Day, I'm giving away this set of 8 cards and a $10 Amazon gift card to one reader! This contest is open to US residents only, and it ends at 11:59 pm on Tuesday, September 12, 2017. To enter the giveaway, click here to sign up: ENTER NATIONAL READ A BOOK GIVEAWAY. The winner will be announced on my Facebook Author Page next Wednesday. 
Tweet: I'm celebrating #nationalreadabookday with hand-stamped #cards & a $10 #Amazon giftcard. https://ctt.ec/UHcRQ+ #stamping #reading