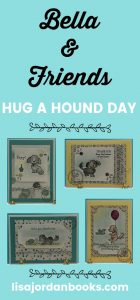 Hug Your Hound Day is an unofficial holiday created by behaviorist Ami Moore to encourage dog owners to provide the best mental and physical care for their pooches. Dog lovers don't need a specific day to snuggle up with their furry friends.
I wasn't always a dog lover. I liked dogs, but it wasn't until I got Penny, my chihuahua-mix, that I realized the depth of my canine compassion. 
Our youngest son had gone off to college, and I struggled with empty nest syndrome. Also, I was writing my fourth novel, Lakeside Redemption, at the time and had been doing a lot of research on dogs and canine handlers. I told Hubby we needed a dog. 
My mom had adopted Penny from a local animal shelter, but after several months, she wasn't able to keep Penny in her apartment due to Penny's dislike of other dogs in the building. I had cared for Penny while my mom was in the hospital and having to give her back broke my heart. So when Mom called and asked if I could take her, I couldn't say yes fast enough. She's been my sidekick for the past three years.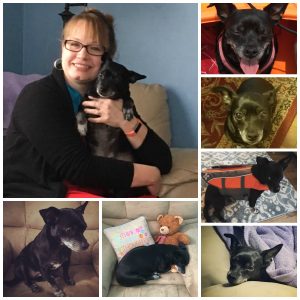 In honor of canines, I created a set of 8 cards using the Bella & Friends stamp set from Stampin' Up! layered on Moonlight Designer Series Paper (retired) and Michael's Recollections paper for the solid base layers. I used Stampin' Up! Lost Lagoon, Blackberry Bliss, Hello Honey, and Basic Gray inks along with Basic Gray baker's twine.
Recently I read Sit, Stay, Love by Dana Mentink and absolutely loved it. A charming book with a sweet romance and an adorable rascal of a dog named Tippy. I was thrilled to see she had other books in the series: Fetching Sweetness, Paws for Love, and a free novella, Love at First Bark. So, if you love dogs, consider buying this series. 

To celebrate Hug a Hound Day and our precious pooches, I'm giving away the set of 8 Bella & Friends cards and a surprise treat for your favorite dog to one subscriber from my newsletter mailing list. If you would like to participate in the giveaway, you can sign up here: HUG A HOUND DAY GIVEAWAY. I'll announce the winner next Wednesday on my Facebook Author Page. 
Click to Tweet: Love #dogs? Enjoy Bella & Friends cards @StampinUp & Love Unleashed by @DanaMentink #reading https://ctt.ec/x4R45+ #hugahound