When I was nineteen, I fell in love with this sexy Marine. From the moment he walked through the door in that blue and white striped shirt and blue pants (Miami Vice era), I was captivated by the way he carried himself with confidence. 
Once I started talking with him, I was intrigued by his kind heart, quick smile and wonderful sense of humor. 
Since that fateful summer's night, we've been married for almost twenty-three years. Some people said our marriage wouldn't last. At one point, it nearly didn't, but I married a true real-life hero, whom I thank God for on a daily basis. 
At the beginning of the week, Fawn from Happy Wives Club contacted me and asked me to be a part of her Happy Wives Club Link Up Party for Reasons Why I Love My Husband. 
Listing reasons in my head is easy, but to put them in a post, I wanted to articulate what my husband really means to me.
He loves me unconditionally. He is my true real-life hero who refused to allow a dark time ruin our marriage. He loves me in spite of my flaws, wrinkles and broader curves.
He makes me feel secure. Hubby is 6'1″ and I'm 5'5″. When he wraps his arms around me, I feel secure physically and emotionally. I know he'll protect me. He gave me security when I needed it most. 
He is a wonderful father. We have two boys, and one looks like him and the other has his traits. They have been shown what a strong marriage looks like. Of course, there are things every parent could change, but he is the right father for them.
He is my Voice of Reason. I am quick to make decisions with my heart, but he takes the time to process the information and helps me to reason out the best decision.
He has a strong work ethic. When Hubby lost his job a few years ago due to economic downsizing, he decided to return to school to get his degree. He graduated with honors, then spent months searching for the right job. About nine months later, God rewarded his efforts, opening a door that uses his degree while giving us steady pay and decent benefits. 
He is financially responsible. Hubby is our home's chief financial officer. With one eye on the future, he pays our bills on time and has money set aside for retirement. Even while he wasn't working, we were able to meet our monthly outcome and pay off debt. Yes, at times, I stress a little about money, but God has been meeting our needs.
He supports my writing. From the first moment I told him I wanted to be a writer, he supported my dream. Once I signed my first contract, he has been my biggest cheerleader. When my books came out, he kept signed copies in his truck to sell to friends and co-workers. He rejoices in my successes and gifts me with things that show how much he cares about making my writing a success.


He is creative. Hubby is an artist in his own right. With his big hands and large fingers, he's able to tie intricate flies for fishing, using quality materials. Yes, those hooks with bits of fur and feathers will get dunked in local streams and rivers for the trout and bass to feast, but they are true works of art. He ties professionally for local stores, and his name is known in fly tying circles. He attends fly tying conferences like I attend writers conferences.   
He makes me laugh. One of the most special things about our marriage is we can laugh about little jokes no one else would understand. It adds a rich layer to our relationship. His dry wit can make me smile even when I'm cranky and not fit to be around anyone. 
I can spend hours waxing my hubby's qualities, but I'll end with this. I may have been infatuated with Hubby when we first met, but through the years, our love continues to deepen into a lasting emotion that goes beyond fairy tales and romance novels. Like any marriage, there's always room for improvement. But we have a love that has been challenged, a love that has been showered with tears, and a love that has been lifted with laughter. I don't doubt his love for me because he tells me and shows me daily. Each day is ripe for new beginnings and new memories to be made. That's real love. And I thank God daily I share that kind of love with Hubby. 
I'm linking up with the Happy Wives Club Link Up Party. Be sure to click on the graphic to read the other posts in this party!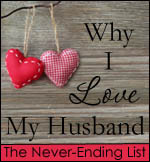 If you're married, what's one thing you love about your spouse? If you're not married, what is one trait you're looking for in your future spouse?