Give a man a fish and you feed him for a day.
Teach a man to fish and you feed him for a lifetime.
~Chinese Proverb
Before Hubby and I married, our relationship developed through letters and treasured phone calls as we were 6 hours apart most of the time. That's what happens when you fall in love with a Marine stationed out of state. For two months from our first meeting, we wrote, getting to know each other on paper. Then Hubby came home on leave to go fishing with his dad and brothers in Canada. While there, he wrote me a love letter on birch bark, which I still have.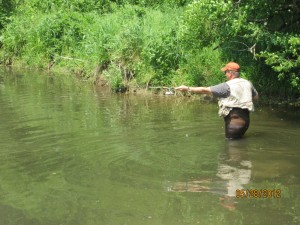 I knew I'd end up marrying that fisherman. And marrying him meant embracing his interests. Then, as we had boys, I had to choose to join them or stay behind. I'm sure several of you may be thinking, "I'd stay behind."
One of my favorite dating memories is going fishing with Hubby. I had fished with my dad as a child, but Hubby took the time to reteach me out to bait my hook (I use meal worms, but totally draw the line at touching maggots that Hubby uses.) and cast my line. With the sun shining on our faces, the gentle breezes blowing through our hair and birds serenading, we stood knee deep in the water casting and talking. 
After the boys were born, we fished together as a couple with his dad and brother. This time the boys stayed with Grandma. That day is another one that gets stored away in the Favorite Memories mind bank. With the hustle and bustle of parenting, it's great for couples to get away and enjoy one another. Again, he took the time to help me cast. And we talked. And laughed. And smooched in the shadows of the covered bridge over the stream where we fished. A definite Happy Moment. 
He teases me about using my paper towels and hand sanitizer. Doesn't bother me. I may be embracing his interests and having fun doing it, but I'm not crazy!
Sadly I allowed a disastrous fishing experience and my phobia of snakes keep me from going fishing again and adding more memories to the Favorite Memories mind bank.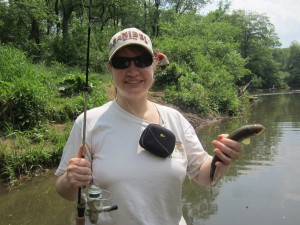 Recently we went fishing with the boys. I had forgotten how peace the streams were. With the craziness in our schedules and all the noise we hear during the day, it was so nice to unplug and head for the water. I pulled on my hip waders, adjusted the brim of my hat, and trudged down the path with fishing pole in hand while begging God to keep all snakes out of my path and line of vision. And the day couldn't have been more perfect. And yes, God answered my prayers about the snakes. And I caught a fish!! My sister asked me what kind, and I told her "a spotted one." I caught a brown trout. 
If you're looking for an inexpensive Date Night (or Day), consider going fishing. If neither of you know how to fish, find a local Trout Unlimited chapter or other fishing organization in your area and learn!