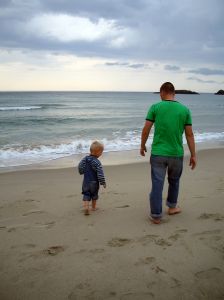 In my newest novel, Lakeside Family, Josie will do anything to save her daughter's life…even if it means facing a man from her past–Hannah's father. 
When I brainstormed Lakeside Family, I had to give Josie a good enough reason to want to find Nick again. After all, the man broke her heart ten years ago. Despite the pain and resentment she felt, she knew she needed to put that aside and find him. He was her daughter's last hope.
As a mother, I would do anything to keep my boys safe. That Mama Bear instinct kicks in and I'm all ready to tackle the world on their behalf. Wouldn't most parents do the same for their children? 
So why do we think God is different? Why do we put God in a box and think He couldn't or wouldn't do something for us?
We are God's children. 
The Bible is filled with stories of His grace, His protectiveness, His "Papa Bear" instinct. 
And like our own children, we become angry or disappointed when God doesn't give us what we want when we want it. Would we give in to our children over everything they wanted? No. So why do we expect God to do the same for us?
Positive parenting allows children to develop and grow into responsible adults who understand right and wrong and the consequences of their actions. 
We serve a loving God who wants the best for us. He is the role model for positive parenting. He is our Heavenly Father. And He wants the very best for us…whatever it takes. 
Your Turn: If you are a parent, what would you do for your children? If you're not a parent, what have you seen your parents do for you? How does your parenting style or upbringing correlate with God's parenting?
**Be sure to comment on my Lakeside Family Book Release Celebration post for an opportunity to win fun prizes!
**My sweet friend Roxanne Gray interviewed me on MBT Ponderers. Stop by and comment for a chance to win a signed copy of Lakeside Family.