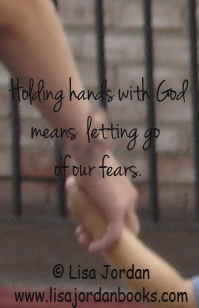 As a mom, my greatest fear is losing one of my boys. Sometimes my fears will smother my faith and twisted thinking will fill my head. I'll pray for God's protection over my boys, then stop. I don't want to pray a certain way because what if God allows something to happen as a way of testing my faith?
Twisted thinking that allows Satan to get a foothold in my spiritual walk. 
After Hubby left for work this morning, I grabbed my tablet and crawled back in my warm bed to do my devotions.
I read about a single mother whose family lived in a poverty-riddled neighborhood. She put her children in God's hands. Even while attending her one son's funeral, she said he was still in God's hands.
Holding hands with God can be tough, and it's a growing process for everyone, including Christians. Fear is a great motivator for wanting to control our situations. Admit it–at times we think we know more than God. 
I'm not always quick to grab God's hand when going through tough times. I admit to having days of shaky faith. No matter how shaky or faithless I am, God remains patient and faithful with me. I pray during times of tragedy I will be able to lean into him. After all, holding hands with God means letting go of our fears. 
Your turn: How do you face your fears? How has holding hands with God been a growing process for you?