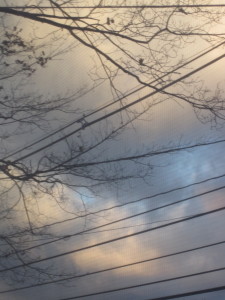 He who He who forms the mountains, who creates the wind, and who reveals his thoughts to mankind, who turns dawn to darkness, and treads on the heights of the earth—the Lord God Almighty is his name. Amos 4:13 NIV
Sunday morning I awoke to the sound of the wind gusting and branches smacking our metal roof. I hate storms, particularly anything involving wind or lightning. When I was a child, a tree had fallen on our house. Even though I had spent the night with my grandparents, who lived down the road, that accident created a domino effect of events that changed my life forever. 
As the wind howled and prevented my return to Dreamland, I prayed and asked God to calm the storm. And if He wouldn't do that, then would He please calm this child. 
For the next two hours, my mind drifted to my current WIP, the previous day's activities and the week ahead. For the most part, I didn't focus on the wind until it picked back up again, then I repeated my prayer. 
These gusts of wind are nothing compared to storms others have endured, but they caused anxiety and sleeplessness in me. For me, for that moment, the wind was troubling. God heard the whispers because the wind died down at times, and I managed not to dwell on it. 
Wind can be cool and refreshing on a hot summer's day. Or it can be devastating and wreck havoc. Even the strongest tree can crack if the wind is strong enough. 
My friend Dee (Delores Topliff) wrote a great post on our group MBT Ponderers blog a couple of weeks ago called Lessons from Aesop, talking about how adversity allows us to lean on God. 
God stays constant, never bending or breaking. And no matter how small or heavy are the wind gusts in our lives, He hears every prayer, every cry of our heart. Sometimes we may think He can't hear us, but not only has He heard, but He's at work calming the storm…or the child. 
Your Turn: Does howling wind comfort you or keep you from sleeping? How to you handle adversity in the storm?