Writing with Heart & Soul
"I love writing. I love the swirl and swing of words as they tangle with human emotions.
James Michener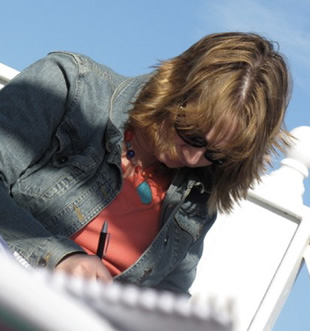 You yourselves are our letter, written on our hearts, known and read by everyone. You show that you are a letter from Christ, the result of our ministry, written not with ink but with the Spirit of the living God, not on tablets of stone but on tablets of human hearts.
2 Corinthians 3:2-3 NIV
From the time I learned to read in first grade, I fell in love with the written word. Reading took me to worlds like Narnia and down the rabbit hole with Alice. Reading allowed me to fall in love over and over again. Reading gave me wisdom.
Many writers wanted to be writers from the time they learned to form letters, but the desire to write didn't hit me until I was sixteen. I had finished reading Danielle Steel's The Promise. My angsty teenage heart was all a flutter at The End. I've always been a happily ever after girl. So I decided I wanted to create that same heart-sigh for my readers. 
My first attempts at writing were horrible. My first story was called The Boss's Son. At that time I was working my way through my friend's stash of First Love by Silhouette novels—popular teen romances in the 80s. After high school graduation, I majored in fiction writing. Little did I realize God had laid this foundation for my life years prior to my life-changing decision.
Over a decade ago, I decided to get serious about becoming a published author. I started a novel about a woman who broke off her engagement to her police officer fiancé after her father was killed in the line of duty.
I toiled over that novel, breaking every writing rule new writers aren't supposed to break. I shelved the book several times and started something new, but those characters continued to stay with me. The story title changed several times as I tweaked the plot, deepened the characters, and shelved it again.
I shared with several critique groups through the years and used their feedback to make it as good as I could. But something was missing until I brainstormed my novel with mentors Susan May Warren and Rachel Hauck, the My Book Therapy dynamic duo and ended with a fully plotted novel. 
Draw Me Close took second place in ACFW's 2009 Genesis contest—contemporary romance category. Additionally I had pitched it to Love Inspired editor Tina James and literary agent Rachelle Gardner. After signing with Rachelle, she submitted my novel to Love Inspired. 
On January 7, 2011, Rachelle called and said, "Lisa, today is your day!" I cried. I sobbed. My poor husband thought something terrible had happened. I finally managed to squeak out, "My book sold."
Love Inspired editor Melissa Endlich offered my first contract. We discussed title changes and cover art. After emailing a couple of times, Draw Me Close became Lakeside Reunion.
As an early childhood educator by day and a writer by evening, I'm still learning how to balance all of my responsibilities. My family continues to be my loudest cheerleaders.
God continues to polish and refine me through life experiences–some not so pleasant—but it's all a part of His Plan, His Purpose for my life.  
For I know the plans I have for you," declares the Lord, "plans to prosper you and not to harm you, plans to give you hope and a future. Jeremiah 29:11 NIV